I've ridden more bike in the last couple of weeks than I have in the last 10 years.
Why? I had a really nice mountain bike that I bought myself as a college graduation gift, but I never rode it. It was great for hills and off-road, but not so good for city riding – the tires weren't made for pavement, the riding position was awkward, and the seat hurt.
So, I finally took some pictures, wrote up a description, and posted it to Craigslist. Surprisingly, it sold the next day.
With some cash in-hand, I then got to start looking for a more suitable replacement. Since I intended on using it to get to work on a regular basis, I researched a lot of commuter bikes designed for urban riding and lugging stuff around town. My first choice was the highly rated Redline 925, but I couldn't justify the over $500 price after nearly a decade of not riding a bike. But, I quickly found a solid alternative in the much less expensive Torker U-District.
Both the 925 and the U-District are nice, simple, single-gear bikes with flip-flop hubs that allow you to convert them into fixed-gear bicycles if you supply your own cog. I would hesitate to recommend one of these if you lived in a place with lots of elevation changes, but in super-flat Grand Forks, it's not an issue.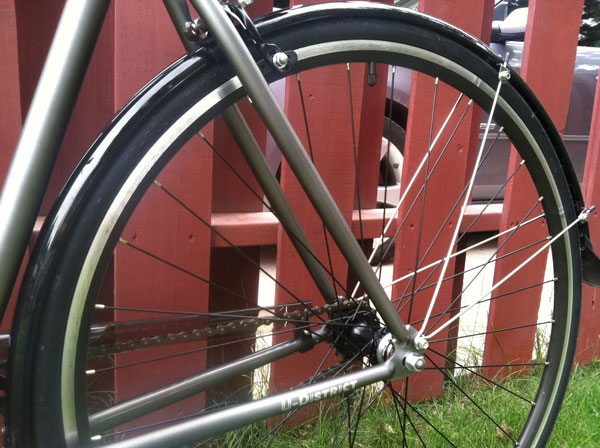 I ended up buying the U-District through our local bike shop, who speical ordered it and built it for me. It's a lot of fun to ride. So far I've primarily been using it to commute to work a few days a week, and it works great for that. The 2.6 mile ride takes me about 12 minutes, which is just about twice what it takes me in my car.
I'm so glade I was able to make the change to a more comfortable bike designed for the type of riding I do now. I'm not sure how much, if any, winter riding I'll do with it, but I look forward to many miles with it in the non-snow seasons.