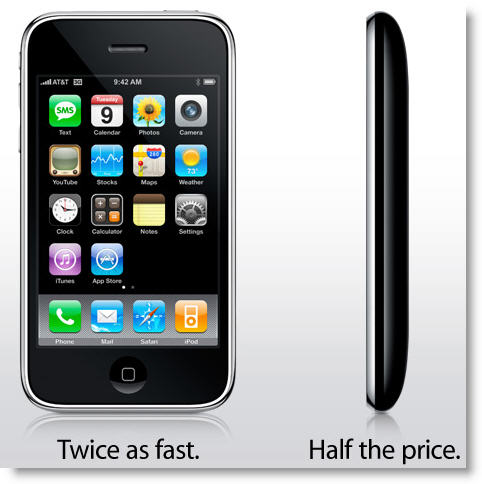 Well, another Worldwide Developers Conference kicked-off and another Stevenote wrapped up. The announcements were pretty well covered in the previous week by the Apple rumor squad, the *big one being the release of the iPhone 3G next month (July 2008). Among other things, It has a faster connection, built-in GPS, and a price tag that is about half of what the previous generation sold for.
Still AT&T Only. North Dakota Still Out of Luck.
When I wrote about the first iPhone announcement 1 1/2 years ago, I mentioned how it was going to only be available for the AT&T (then Cingular) wireless network. This is still the case, and the wireless provider still has no presence in North Dakota, so us North Dakotans are out of luck yet again.
With Verizon's purchase of Alltel last week, North Dakota will effectively have one statewide wireless provider, creating a monopoly for Verizon in the state. And while I've had terrific luck with their service and coverage, more competition is always better. So, maybe we'll see AT&T move in to challenge them, but I'm not holding my breathe.
I think the best chance of us seeing an iPhone in the upper midwest would be for Apple to make a CDMA compatible version. But, this could be years out, if ever, due to their exclusivity contract with AT&T. Or, maybe our dreams will finally be realized when all the wireless carriers migrate over to Long Term Evolution (3GPP LTE) in a few years.
Or, maybe not.