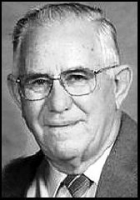 Frederic Berberich, 83, entered into eternal rest with his loving family surrounding him on Wednesday, August 3, 2005 at Pioneer Memorial Care Center in Erskine, MN.
Frederic Arthur Berberich was born on August 12, 1921 in Popular River Township, the son of Frederic and Margaret (Neid) Berberich. He was baptized and confirmed in St. Joseph's Catholic Church in Brooks, MN and attended Popular River Country School.
Frederic was united in marriage on November 10, 1945 to Delores Lessard in Oklee, MN. He worked numerous jobs, including building construction, road construction, American Crystal, driving truck for Brooks Cheese Factory and Dan's Trucking, all the while grain and dairy farming. He served on the Brooks Credit Union, St. Joseph's Catholic Church, Pioneer Nursing Home, Senior Citizens Home Boards and was a member of the Catholic Order Of Foresters and St. Joseph Cemetery Board.
Frederic is survived by his wife, Delores; ten children: Ione (Clarence) Kostrzewski, Stephen, MN, Jerry (Roxanne) Berberich, Karlstad, MN, Rose (Roland) Wold, Thief River Falls, MN, Robert (Eleanor) Berberich, Fargo, ND, Mark (Sue) Berberich, Oklee, MN, Charlene (Poncho) Gagner, Brooks, MN, Karen (John) Larson, Brooks, MN, Anita (Jeff) Capp, Larimore, ND, Vicki (Joe) Ste. Marie, Red Lake Falls, MN, and Randy Berberich, Milwaukee, WI; 41 grandchildren; 28 great grandchildren; two sisters: Dorothy Lessard, Hillsboro, ND and Phyllis (Gene) Grinsteiner, Bismarck, ND; and several nieces and nephews.
He was preceded in death by his parents; Frederic and Margaret; children: Jeanette, Roger and Jackie ; and one grandson, Tom Gagner; brothers: Leander, Aloysuis, Eugene, Vernard and infant brother, Joseph; sisters: Marie Abrams, Orlean O'Malley and infant sisters, Lorraine and Loretta.